Safe for all skin types with very low downtime.
Over-the-counter skincare products aren't always enough to restore skin sufficiently. An innovative skin rejuvenation treatment, microneedling is a form of Collagen Induction Therapy that significantly improves the appearance of sun damage, fine lines, wrinkles, acne scars, and even stretch marks by resurfacing the top layer of the skin.
At Skin Med Spa & Laser, we use SkinPen by Bellus Medical for all Microneedling treatments. This technology is FDA approved, safe and effective to refresh skin. For best results, it should be done monthly.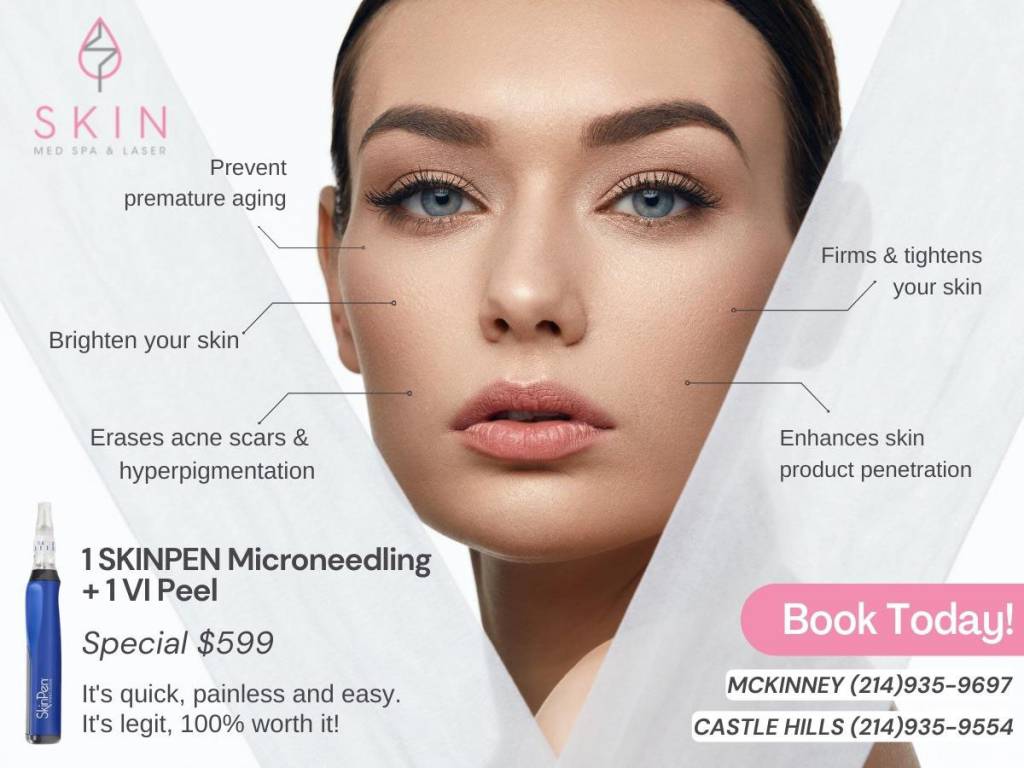 The Fall Skin Mini Refresh: Perfect for those that feel there skin is looking tired and dull heading into the holiday season. Also an amazing option for acne scars, fine lines, and hyperpigmentated skin. This treatment package of 2 will safely and effectively resurface your skin to bring out fresh, smooth, clearer and brighter skin. Call to set up a FREE nurse consultation to make sure this treatment is the best option for the results you are wanting. Book Online Now!!
• Improves fine lines & wrinkles.
• Treats uneven skin tone.
• Firms & tightens skin.
• Scar reduction.
• Helps reduce appearance of stretch marks.
• Reduces enlarged / visible pores.
• Helps skin products penetrate and be more effective.
It creates thousands of microchannels that stimulate your body's natural wound healing process, while minimizing cellular damage. This rejuvenates your skin from the inside out. The result is effective remodeling of scar tissue, while keeping the overall structure of the skin intact. 
There are three phases to the wound-repair process with SkinPen:
Piercing the skin triggers your immune system to cleanse the wound, remove debris, increase blood flow and begin to create new tissue.
The wound is rebuilt with new granulation cells, which are part of the extracellular matrix. Additionally, a new network of blood vessels develops.
The wound is replaced with new dermal tissues and blood vessels.
Frequently asked questions
If you want to receive Microneedling treatments that will be performed in the best way possible, our medical spas are the place to go. Contact us today to find out more about this treatment and set up your appointment.
SkinPen® Microneedling
designed to stimulate your skin's natural ability to produce new collagen